KEW Foundries, Africa's sole manufacturer of cast headgear sheave wheels, has recently upgraded its foundry in Kimberley with new equipment at a cost of R725 000. This is in line with its long-term strategy to build its business by reinvesting to ensure that it is geared for future expansion.
"This capital outlay forms a part of our drive to improve our infrastructure to maximise the benefits of a new three tonne medium frequency melting furnace, to add to the existing three and six-tonne mains frequency furnace, which we envisage to have in place by the end of 2011," explains John Bryson, Foundry Director.
The largest cost involved replacing the existing eight tonne sand-mixer with a 15 ton unit that was raised to fill higher moulds; and the installation of a chemical auto-blend unit in the Heavy Casting bay. The eight tonne unit will be redeployed in the Light Casting bay, after being refurbished to produce its original 10-tonne output.
The new equipment is more user-friendly and will improve the quality of the moulds, thereby reducing mould breakages and improving casting quality, which in turn will reduce fettling costs.
To accommodate this upgrade, the Sand Plant had to be modified to increase throughput, with more upgrades in the pipeline.
"The manufacturer of the sand-mixer, Endeco, also assisted with the installation and provided advice for current and future modifications of the sand system to improve productivity. This kind of relationship between the supplier and customer is required to guarantee the future of the foundry industry and is the kind we strive for with reference to our customers," concludes Bryson.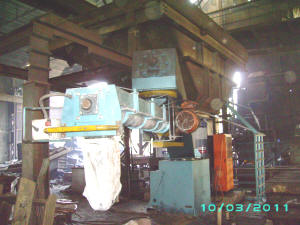 KEW Foundries was established in 1891 and is Africa's sole manufacturer of cast headgear sheave wheels. The company also offers an extensive range of hand moulded castings in Grey and SG Iron up to 7 tons in weight, pressings, and general machining. Supported by comprehensive design and drafting facilities, including a dedicated pattern shop, machine shop, and laboratory, KEW Foundries serves a host of South African and international mining and industrial markets.