KEW Foundries, manufacturer of castings and sheave wheels, was officially presented with its ISO 9001-2008 Certificate of Registration on 29 August 2012 by representatives from the SABS. Also present were delegates of the Department of Trade and Industry, the South African Institute of Foundrymen and the Northern Cape Chamber of Industries, as well as customers, suppliers and service providers. The presence of all these role-players was indicative of the management of KEW's belief that the way forward demands a team effort.
"Although we have had a Quality Management System in place for many years, we only started driving towards ISO 9001 accreditation two years ago. In a design, foundry or engineering environment ISO 9001-compliance is extremely complex, and our operation consists of all three. Our complete operation and product range is covered by this accreditation," explains John Bryson, Foundry Director.
"This accreditation is testament to KEW's unremitting commitment to quality and its customers. We believe that as the system becomes more entrenched we will attain an even higher standard. In addition, it has been found that if ISO 9001 is applied diligently in an operation it contributes substantially to cost savings," adds Bryson.
It also demonstrates a willingness to work towards improving efficiency and an existence of an effective quality management system that satisfies the rigours of any independent, external audit.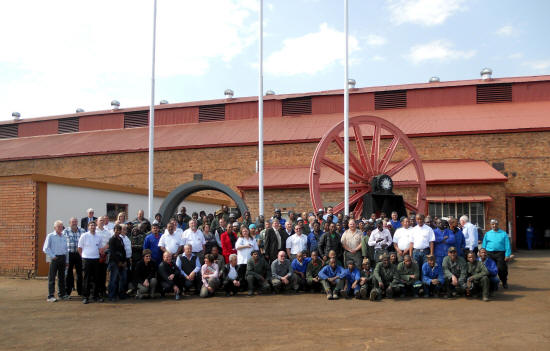 As a supplier of critical safety items to the global mining industry, such as headgear sheave wheels, KEW Foundries has been audited by the major mining houses over the years. However, as the company is moving into markets that require ISO 9001 accreditation as a prerequisite, it will add to its marketability. "We are finding that more and more South African institutions are also insisting that not only OEMs are compliant, but their respective suppliers as well. In many instances an ISO 9001 accredited company will have precedence over a non-accredited company. Our accreditation will also help our customers reference their own quality rating."
"With all the present initiatives in place the future of the foundry industry in South Africa is more positive than it has been for a long time, and we are confident of our abilities to take advantage of the present climate. Now that ISO 9001 is in place, we will start working towards ISO 14001 and ISO 18001-accreditation," concludes Bryson.
KEW Foundries was established in 1891 and is Africa's sole manufacturer of cast headgear sheave wheels. The company also offers an extensive range of hand-moulded castings in Grey and SG Iron up to 7t in weight, pressings and Cameron compressed air sludge pumps. Supported by comprehensive design and drafting facilities, including a dedicated pattern shop, machine shop and laboratory, KEW Foundries serves a host of South African and international mining and industrial markets.